Why is Chicago's Office Sector Facing Headwinds?
Although the Chicago office property market is holding its own, there are some concerning dynamics at play when taking a closer view.
Better Financing Starts with More Options
$1.2M

offered by

a Bank

at

6.0%
$2M

offered by

an Agency

at

5.6%
$1M

offered by

a Credit Union

at

5.1%
Click Here to Get Quotes
Chicago's commercial real estate market has faced both significant challenges and opportunities throughout the past cycle, and its office sector is no different. Investment brokerage firm Savills released its first-quarter report on the Windy City's downtown office market, and while signs show an overall solidifying of fundamentals, the overall picture is a bit more nuanced.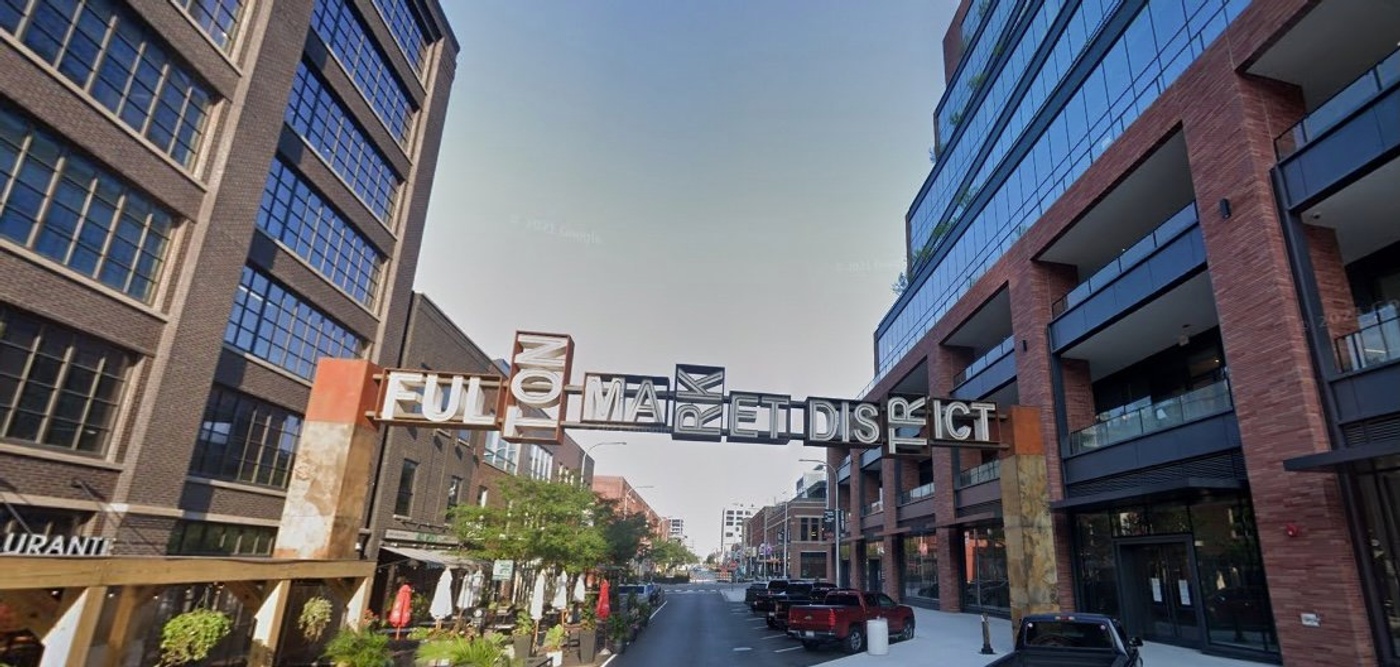 Fulton Market sign. Image from Google Street View.
Chicago as an office market has long been attractive for major companies. As the largest city in the Midwest, the metro's large talent pool available to fill office jobs has been second to none, and leasing rates have historically been far below pricier coastal population hubs like New York or San Francisco.  
And yet, Chicago's office market is really more like two — each with very different dynamics and quality. High-quality assets in the Loop and nearby growing neighborhoods like Fulton Market have been sought after by tenants looking for the best space Chicago has to offer, similar to the flight to quality seen in most major markets. Yet, older Class A properties, and nearly all Class B and C properties, remain plagued by heightened vacancies amid reduced leasing activity.
Distressed Office Buildings
Reports of distressed office assets are on the rise across the city, with one of the largest — Brookfield Asset Management's 1.4 million-square-foot skyscraper at 175 W. Jackson Blvd. — being taken over by LNR Partners, the tower's $258 million CMBS loan's special servicer, BisNow reported in March. Finance analytics firm Trepp reported the office building's occupancy was 65% just last year.
Overall, the Savills report shows that vacancy in the first quarter for Class A assets was 19.3%, compared to 28.2% for Class B and C properties. This is significantly higher than the national vacancy rate of 15.7% reported in March by data provider Yardi Matrix.
Despite the higher vacancy, office rents have climbed significantly since last year, averaging $42.42 per square foot, compared to $40.48 in the first quarter last year, an increase of 4.8% over the year. At the same time, concessions — even for high-end space in Fulton Market and in the West Loop — are growing. Though trophy assets in these submarkets have enjoyed high demand, office deliveries slated for this year are likely to boost any potential tenant's position in finding new space.
Tax Troubles Dampen Chicago's Office Real Estate Growth
Further impacting the office market are rising taxes for the city over the past couple of years. New real estate assessment practices have taken effect in recent years, combined with growing tax rates to cover both the city's and the state's budgetary shortfalls. Today, property taxes are assessed at 25% of a commercial building's value, compared to 10.7% in New York City.
This hasn't yet resulted in significant rent growth, even for the trophy office assets that might be better positioned to command increases. Long term, however, landlords will need to boost asking rates or risk cutting into operating margins significantly.
Chicago Remains a Tenant-Favorable Office Market
Even with these headwinds, Chicago as an office market continues to be desirable for tenants. As vacancy remains high — especially considering the pace of workers returning to physical office space — tenants find themselves in an incredibly advantageous position, with landlords competing to fill buildings. Though some of the highest-demand Chicago neighborhoods may remain pricey and office assets may remain filled, any tenant seeking space in a Class A building outside the West Loop's borders — or even within a Class B property in the heart of the city — should have no shortage of good opportunities.
Related Questions
What are the main headwinds facing the Chicago office sector?

The main headwinds facing the Chicago office sector are rising taxes, high vacancy rates, and landlords needing to boost asking rates to maintain operating margins.

Rising taxes for the city over the past couple of years have impacted the office market. New real estate assessment practices have taken effect in recent years, combined with growing tax rates to cover both the city's and the state's budgetary shortfalls. Today, property taxes are assessed at 25% of a commercial building's value, compared to 10.7% in New York City. Source

High vacancy rates have also made the office market tenant-favorable. Though some of the highest-demand Chicago neighborhoods may remain pricey and office assets may remain filled, any tenant seeking space in a Class A building outside the West Loop's borders — or even within a Class B property in the heart of the city — should have no shortage of good opportunities. Source

Long term, landlords will need to boost asking rates or risk cutting into operating margins significantly. Source

What are the long-term implications of these headwinds for the Chicago office market?

The long-term implications of the headwinds for the Chicago office market are that landlords will need to increase their asking rates or risk cutting into their operating margins significantly. This is due to rising taxes for the city over the past couple of years, with new real estate assessment practices taking effect and growing tax rates to cover both the city's and the state's budgetary shortfalls. Property taxes are now assessed at 25% of a commercial building's value, compared to 10.7% in New York City. Source

How have the headwinds impacted the commercial real estate market in Chicago?

The headwinds in Chicago's office sector have resulted in rising taxes for the city over the past couple of years. New real estate assessment practices have taken effect in recent years, combined with growing tax rates to cover both the city's and the state's budgetary shortfalls. Today, property taxes are assessed at 25% of a commercial building's value, compared to 10.7% in New York City.

This has not yet resulted in significant rent growth, even for the trophy office assets that might be better positioned to command increases. Long term, however, landlords will need to boost asking rates or risk cutting into operating margins significantly.

Even with these headwinds, Chicago as an office market continues to be desirable for tenants. As vacancy remains high — especially considering the pace of workers returning to physical office space — tenants find themselves in an incredibly advantageous position, with landlords competing to fill buildings.

What strategies can investors use to mitigate the risks associated with the headwinds in the Chicago office sector?

Investors in the Chicago office sector can mitigate the risks associated with the headwinds by taking advantage of tenant-favorable conditions and offering competitive rates. With vacancy remaining high, landlords can compete to fill buildings by offering competitive rates and attractive terms. Additionally, investors can look for opportunities in Class B buildings or outside of the West Loop, where there is less competition and more potential for rent growth. Long-term, investors can look to increase asking rates to cover the rising taxes and maintain operating margins.

What are the most important factors to consider when investing in the Chicago office market?

When investing in the Chicago office market, the most important factors to consider are location, vacancy, tenant-favorability, and services near the office asset. Location is important because it should be accessible for employees, customers, and clients, and should be in a safe area. Vacancy is important because it can affect future valuation. Tenant-favorability is important because it can give tenants an advantageous position when looking for office space. Finally, services near the office asset can be a selling point for tenants.

Sources: