With construction costs soaring, many developers have begun rethinking their projects. After all, an office tower planned in 2020, based on 2020 costs, may not pencil in today's environment. The largest factor in price increases? Building material costs. Between January 2021 and 2022, material costs jumped by 20.3%, according to the Associated General Contractors of America, or AGC.
Labor shortages are also playing a part, driving up wages. Unemployment in the construction sector is at historic lows: In January, the Bureau of Labor Statistics reported the sector's unemployment rate at 5.7%, a sharp drop from the 9.1% in January 2021. This comes alongside a forecast 3.3% uptick in labor costs in 2021.
For commercial projects both large and small, these increases can spell disaster, not least because prices are only expected to push even higher in 2022. So amid rising prices, what can a developer do?
The Mass Timber Effect
Hines completed work on the 205,000-square-foot T3 West Midtown in Atlanta in 2017. Image courtesy of Hines.
One answer may be in the materials used. Enter cross-laminated timber, or CLT. This material is, essentially, a prefabricated wood panel made up of several layers, glued one on top of the other, rotated at a 90-degree angle.
In 2016, Hines finished construction of T3 Minneapolis, a seven-story, 224,000-square-foot Class A office building constructed primarily of mass timber. According to the developer, this was the first major office development to be constructed of wood in the U.S. in at least a century. Amazon was quick to snap up a good chunk of the space under a long-term lease, a clear indication that wooden buildings aren't just a relic of the past.
Since then, the floodgates have opened: Hines has developed or is actively working on similar T3 projects in Atlanta, Toronto, Denver, and Barcelona, and many other developers are pushing forward with their own mass timber projects. And structures are getting bigger and rising ever higher: In Milwaukee, Wis., the world's tallest timber building — appropriately named Ascent — is underway, Urban Milwaukee reports. Rising 25 stories, or 283 feet, the 259-unit upscale residential tower is expected to deliver later in 2022.
Environmental Upside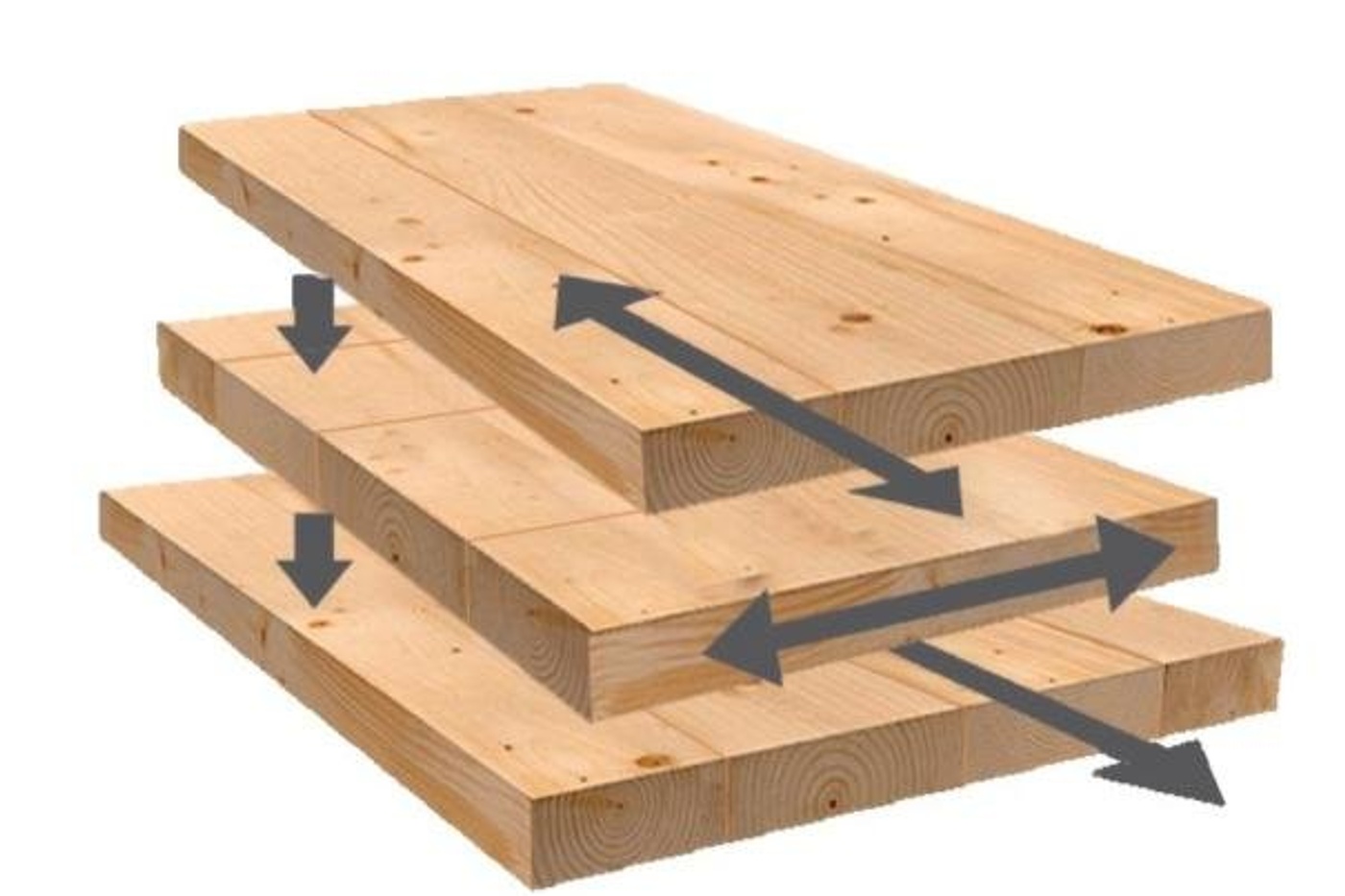 Cross-laminated timber. Image courtesy of IMARC Group.
That timber is more environmental sustainable than more mainstream commercial building materials, like steel and concrete, is probably unsurprising. Right now, an estimated 11% and 28% of the earth's greenhouse gas emissions come from building materials and building operations, respectively, according to nonprofit group Architecture 2030. Using CLT or a similar wood material in place of steel or concrete would significantly reduce embodied carbon, Vox reports. Embodied carbon encompasses far more than greenhouse emissions in producing a material: It also includes emissions relating to the transportation and assembly of those materials.
The Cost Element
While environmental sustainability is critical, costs are often among the most pressing issues when planning your new project. And timber may, at first glance, appear to be more expensive than its alternatives. 
A report put out by the Concrete Reinforcing Steel Institute posits that using CLT could add about 16% to 29% to structural framing costs. What this report omits, however, is that CLT buildings tend to have cost upsides that may outweigh higher material costs. In a report published by the AGC, the trade group calculated that mass timber structures are built about 25% faster than those using concrete, and construction traffic is also significantly reduced — by as much as 90%.
What About Fire?
Everyone wants a safe building, after all, and it's hard to imagine developing a wooden building without also being conscious of potential fire risks. Reality may not follow logic, however: The Mass Timber Code Coalition indicates that CLT structures — particularly those with five or more layers — are extremely fire resistant, able to withstand temperatures of more than 1,800 degrees Fahrenheit for more than three hours, much higher than what building codes typically require. If mass timber is further protected with the addition of surfaces like a gypsum wall, this resistance is even greater.
So, Where's the Problem?
The main issue connected to the use of mass timber in construction is that of scalability. Most CLT developments that have been completed today have been spearheaded by large real estate developers with the ability to coordinate between contractors, suppliers, and governments. Without partnerships with sustainability-minded groups in place, a smaller developer may be at a significant disadvantage to reap the same benefits in terms of accessing timber supply, which is a key component in the overall cost of sourcing the material.
However, while a mass timber building may be a difficult thing for a local developer to contemplate today, this may soon become a thing of the past. As larger players keep pushing forward with more CLT projects, the accessibility of materials — and the knowhow of local general contractors to use them — can only grow.