Capital stack gets thrown around a lot as a term in commercial real estate investing. Simply, it refers to the layers of capital involved in a real estate investment.
Each layer has a different level of risk, different potential returns, and a different priority when it comes to receiving payments. The graphic below depicts a capital stack for a commercial real estate investment. Simply put, the bottom of the stack has the lowest risk — and the lowest returns. As you move up, the risk and potential investment upside increases.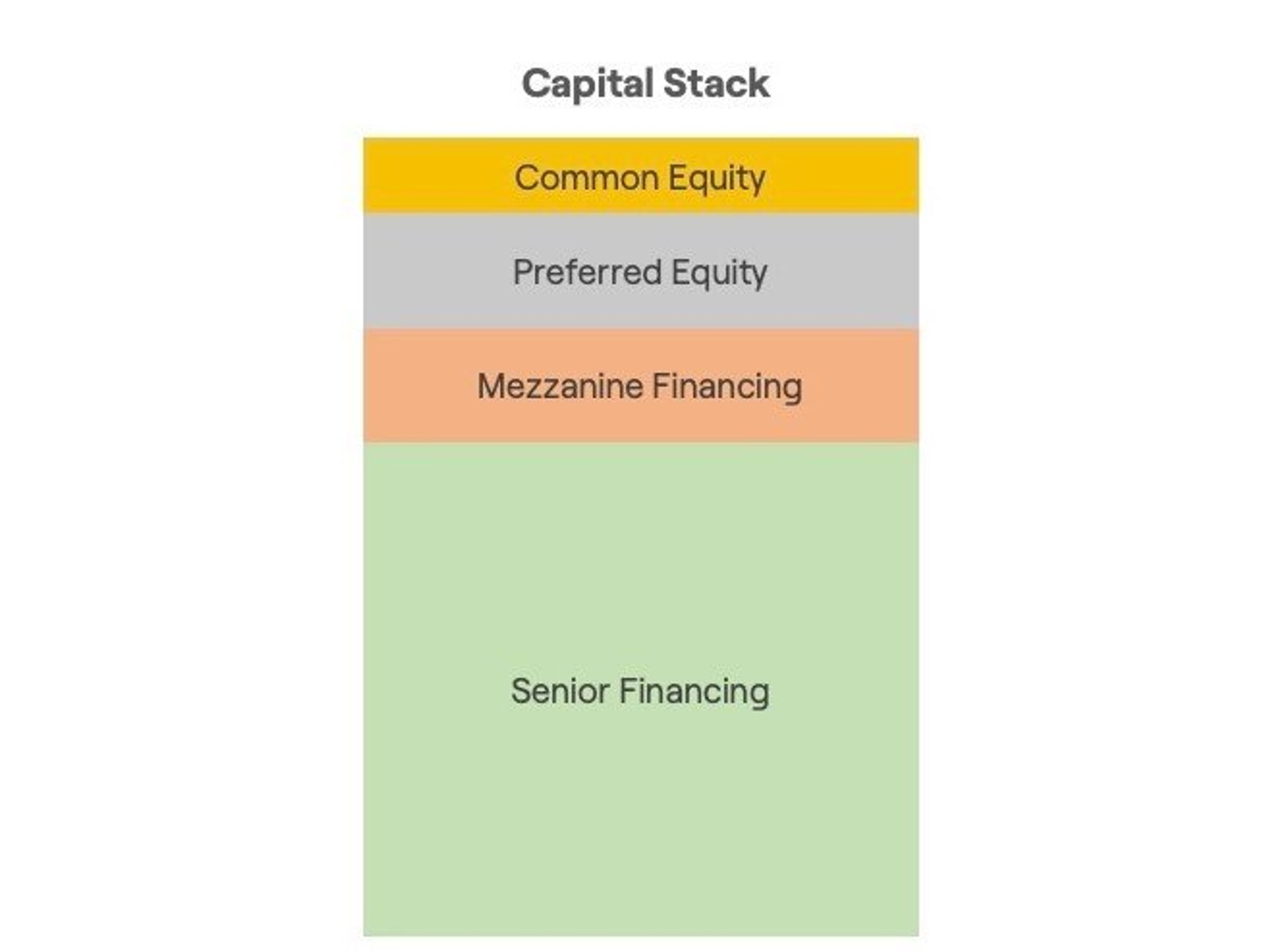 Capital stack.
Curious how it all comes together? This article explains the meaning behind each capital stack position, as well as the core components — debt and equity — and how an investor can better understand an investment's risks and profitability given the structure of a particular investment.
Debt Layers of the Capital Stack
There are two main debt layers in the capital stack. Both aren't present in all real estate investment structures — in fact, many smaller assets are acquired using only senior debt. Mezzanine financing, however, may be available in your situation, and it is key to understand how it falls into this structure.
Senior Financing
Also known as a first-position mortgage, senior financing is the primary (and usually largest) loan you take when acquiring a property or refinancing a prior loan. There's no one type of lender that offers senior financing — it could be anything from a bank or credit union to a life insurance company or CMBS lender.
Senior financing is paid off over time through regular debt service payments and, depending on the loan terms, a balloon payment at maturity. Senior debt occupies the lowest layer of the capital stack, meaning it is the first to be repaid and bears the lowest risk. A holder of senior debt can also foreclose on a property.
Mezzanine Financing
Mezzanine financing, also sometimes referred to as subordinated debt, is a layer of debt that is — as the name suggests — subordinate to the more senior loan. That means that the senior lender gets paid before the mezzanine lender gets their return. This is a riskier type of financing for lenders to offer. As a result, this loan type generally bears a higher interest rate to offset that risk.
Note that not all senior lenders will permit an investor to take mezzanine financing. For example, in multifamily real estate, HUD lenders typically do not allow it, and even agency lenders like Fannie Mae® or Freddie Mac® will only allow mezzanine debt from approved sources.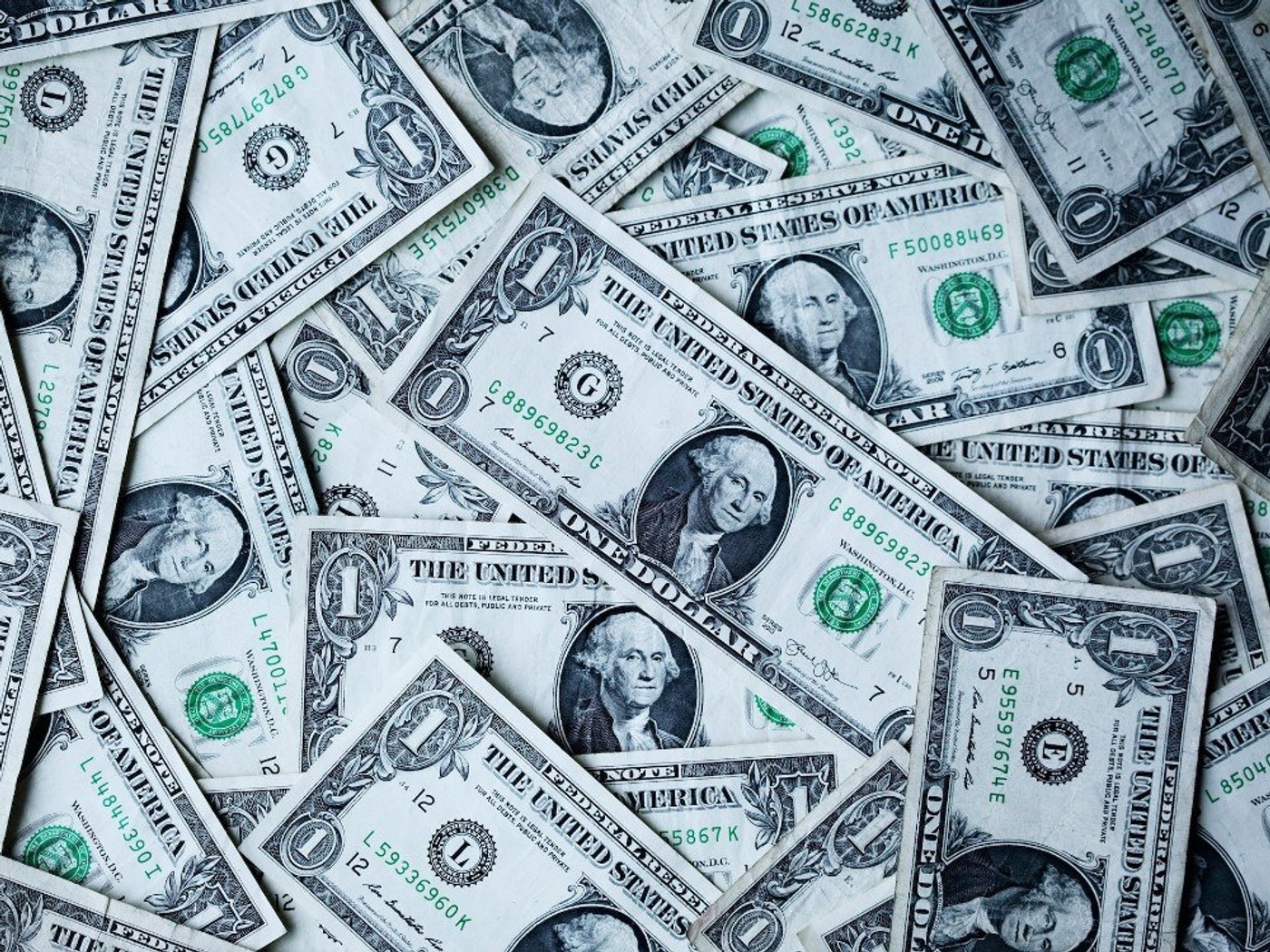 Image by Alexander Grey from Unsplash.
Equity Layers of the Capital Stack
The equity in the capital stack describes which investors own the property without debt. There are different layers in equity, however, and it's important to note the differences between them.
Preferred Equity
If you're the one buying a property, preferred equity isn't you. That's down in the next section. But imagine you're purchasing a $15 million multifamily property. You can get a loan for $10 million, and you have $2 million of your own capital to inject. Where do you get the other $3 million? That's where preferred equity comes in.
If mezzanine financing is too expensive (or unavailable) for your deal, you could sell preferred equity to outside investors, offering them a guaranteed return through a type of waterfall structure. Let's say in the above example, you sell $3 million in preferred equity, with a guarantee of a 6% annual return on investment. Because it's lower on the capital stack, preferred equity returns are prioritized above your own returns. After you pay your debt layers in full, your next step is to cover the preferred equity returns, at whatever rate was guaranteed.
Common Equity
Last but not least, common equity is your contribution to the investment. This may not just include your own skin in the game, but that of other investors if you're investing as part of a real estate syndication or even through crowdfunding.
With common equity, you stand to realize the biggest investment gains. Returns aren't limited like they are with debt or preferred equity. However, with the opportunity for larger gains comes a significant increase in risk. Common equity has the lowest payment priority. That means if your investment sours, you could be on the hook for a significant loss — even if all the debt layers and preferred equity are made whole.
Allocation of Risk, Payment Priorities in the Capital Stack
In commercial real estate, every investor has a different tolerance for risk — and the capital stack is a good way to understand how much risk each level of capital has. Senior debt, which occupies the bottom — and often largest — layer, has the least amount of risk. 
Think of it this way: If you bought an underperforming office building with a bank loan, and you don't get enough rental income to cover both debt service and your own projected returns, who gets made whole? Hint: It isn't you. 
A lender behind a senior loan is always the first to receive its piece of the pie — and so it has significantly less risk in any investment. Of course, lenders do bear some risk. If that office building sits empty, it's unlikely anyone's getting paid much of anything. Of course, to manage this risk, a lender has the option to foreclose on a property when the borrower can't service the senior debt.
Similarly, the actual property owner — often portrayed in the capital stack as the common equity — bears the greatest amount of risk. Commercial real estate owners have the lowest priority in terms of getting paid, as any debt and preferred equity must be paid out first.
How Returns Differ Within the Capital Stack
As with nearly any investment, higher risk isn't necessarily a bad thing. While the common equity layer of the capital stack may bear the highest risk, for example, so too can it bear the greatest rewards. On the other hand, while a senior mortgage lender at the bottom of the capital stack may have very little risk, if an investment performs well, the lender generally won't realize any additional return.
By the same token, though, a large amount of risk can certainly turn an investment opportunity into a liability. Beyond the cash flow example from the previous section, an investor higher up in the capital stack is at risk when exiting an investment. 
For example: Let's say you acquired a retail property for $5 million, and you utilized $3.5 million in senior debt and $1 million in preferred equity for the deal. You exit the investment after property values have dropped significantly in your market, or after the asset type begins to struggle at even a national level. We'll say you sell the property for $4.3 million.
The lender will still get their cut. Of that $4.3 million, they'll take back whatever is left to be paid on the loan. Then, the remaining money will pay out the next level of the capital stack: in this example, preferred equity. There may not be enough money to fully cover what's due to preferred equity holders, but they will still take as much of their cut as they can. That could leave you with nothing, unless the preferred equity layer is made whole. Of course, in normal market conditions, property values will increase — but even so, it is wise to understand how the capital stack influences your overall return on investment.